Top 15 Best Fishing Games So Far
I have played many fantastic and disappointing fishing games. So I decided to create this top 15 list of the absolute best fishing games ever created across all game platforms. Including classic and newer video game consoles, PC, and mobile devices. The games listed have stood the test of time. They were better than the competition when released. Most are still fun to play today. If you happen to disagree with a game I added or think I missed a great one, be sure to comment below. As new fishing games are released, this top list will be updated and changed.
1. Pro Fishing Challenge (Xbox)
When it comes to gameplay and fun factor Pro Fishing Challenge is the best. Maybe it lacks graphics and high quality fish shots that other games have. It will keep you playing if you enjoy a bit of a challenge though. Something in-between a Simulator and a arcade game. You might get very addicted to it, especially when you notice how fun these challenging tournaments can be. It features loads of fishing options and gear upgrades. Lovely lakes to fish at and over 21 fish species to catch. The 3rd person top of the water view is pretty unique, but works very well. It has aged a bit, but still a lot of fun.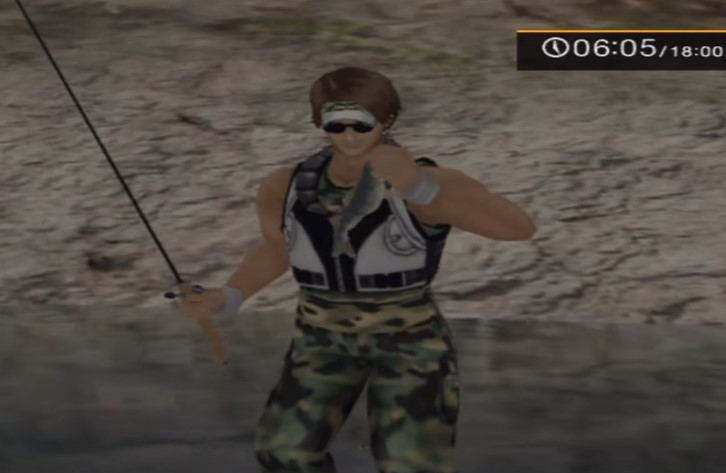 2. Trophy Bass 4 (PC)
A fishing game way ahead of it's time back when it was released in 2000. Every single fish had a great animated menu, with information. The interface was high quality. Graphics were amazing. Gameplay was outstanding and realistic. boat, lakes and extended amount of fishing gear are great refined additions. You can tell the developers really cared about this game. Every fine detail you would expect to be in a fishing game is in here. At times it can become a bit slow and boring, but that's how fishing is in real life lol. Probably my only gripe of this game, is the fun factor can be off and on. It's a must play though if you don't mind aged graphics.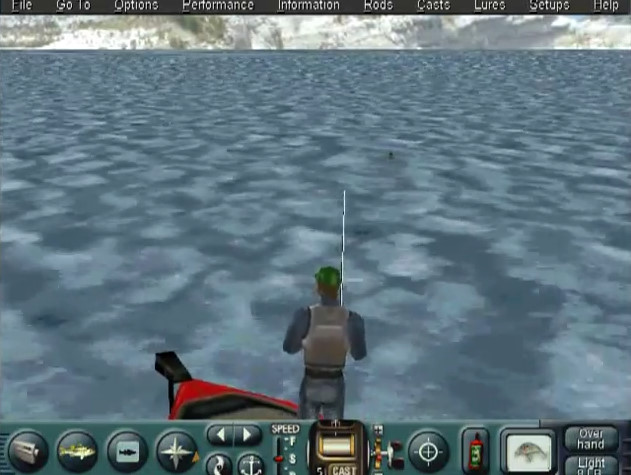 3. Rapala Pro Bass Fishing (Xbox 360, PS3, Wii U)
This was a perfect cross between a fishing simulator and a arcade fishing game. The simulator part of it is driving boats, gear selection, upgrading, fishing real life lakes and the realistic graphics. It was all done well. The arcade part of it was how awesome and exciting the gameplay was. Especially when you hook on a fish using there fishing rod controller. It was not  entirley realistic, but it had you moving the fishing rod all around and using your turbo at the right time. Also has legend fish in a few lakes. Such as lou, a giant white sturgeon that swims around in lake Minnetonka. I wish this game had even more lakes and upgrades to offer. It's great for what it is though. I really hope they make a part 2 to this one on PS4 or Xbox One!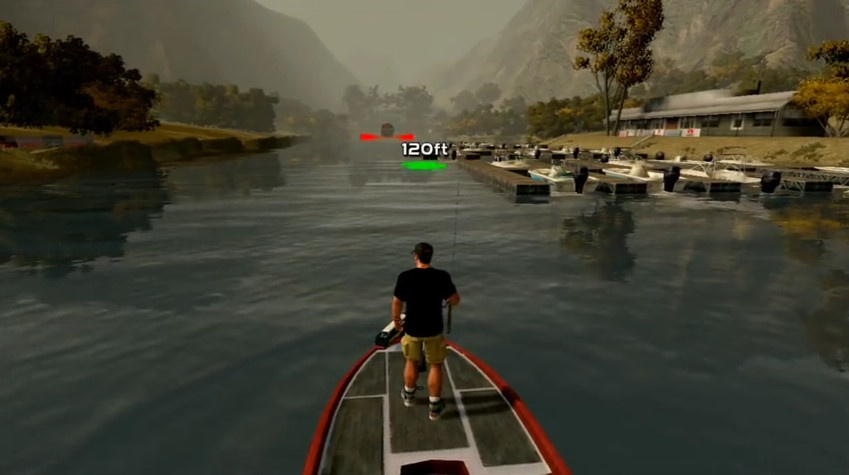 4. SEGA Bass Fishing (Wii version was the best)
Yes, I know SEGA Bass Fishing has been played out. Almost every single system has a port of the game. I was amazed when this was first released on Dreamcast and Arcade back in the day. I bought the fishing controller lol. It was so much fun. The graphics and excitement were so far ahead of anything else back in 1999. Many games on Playstation (PS1) tried to copy it's gameplay but failed. If you were a bass fisherman and loved video games, you probably heard about or played this one. Besides many ports of the arcade version. SEGA Bass Fishing got it's own version on the Nintendo Wii. Just loved the improved graphics fish AI, new modes and locations. It was overlooked by many but for hardcore fans the Wii version was the way to go.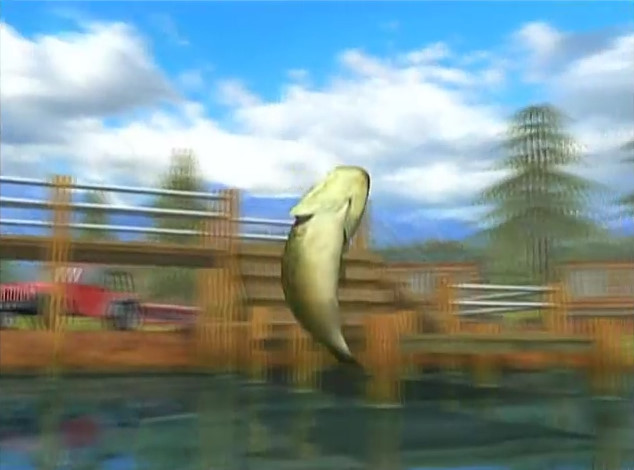 5. Master Bass Angler: Fishing (Android, IOS)
If you are looking for a good bass fishing game for Android or IOS devices, look no further than Master Bass Angler. It's free to download and play. It does have micro transactions but it's very fair. You can earn gear, levels and plays without paying a dime, it will just take longer and some patience. The graphics are great and fishing is fun. Send gifts to friends. Compete in online tournaments and win prizes in the game. The missions are also fun to accomplish. It's a great one to play when on the go or when you are just plain bored.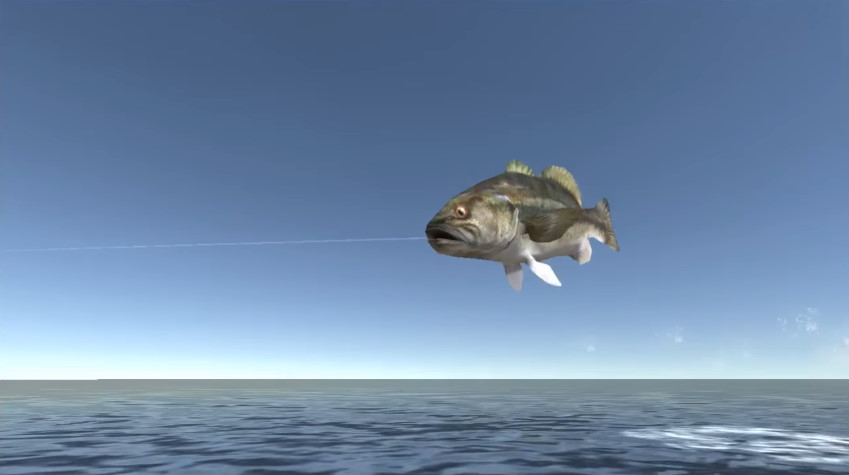 6. Fishing Planet (PC)
Fishing Planet is by far the best looking fishing game ever created. The gameplay is also very realistic. With an enormous amount of fishing lure, rod, reel and other gear upgrades. It's free to play and can be downloaded at the Steam Store. If you don't plan on putting money into the game and try to earn everything for free. Be prepared to make progress very slowly. It's obvious developers want to make a little money off of everyone if they can, and that's fine because the game is worth it in some areas. The first person view and fish fights are my favorites in this one. Fish vary in size and catching them feels real.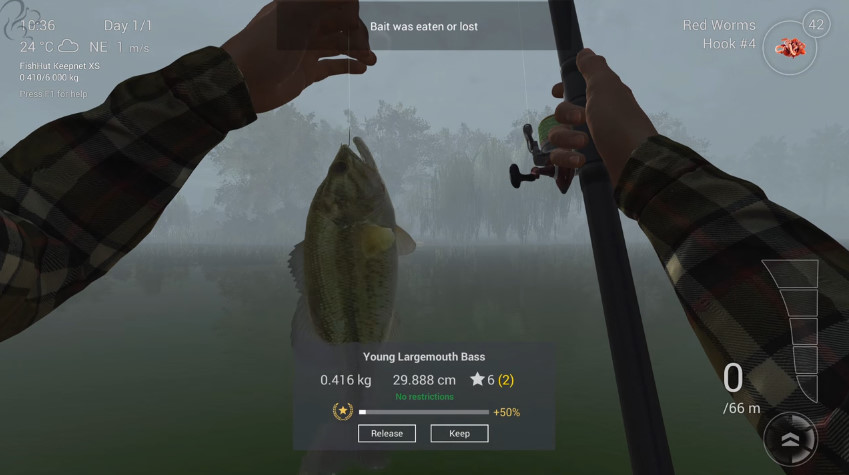 7. Bass Pro Shops The Strike (PC, Xbox 360, Wii)
I would compare this one to Rapala Pro Bass Fishing. It was similar in many ways. Just lacked the fun factor that Rapala had. Made up for it with more real life places to fish from around the United States. Third person view fishing with boat driving and great underwater camera views. It's a fun one to play also. Many fish species to catch and tournaments to win. The fishing controller also made this one fun to play on Xbox 360.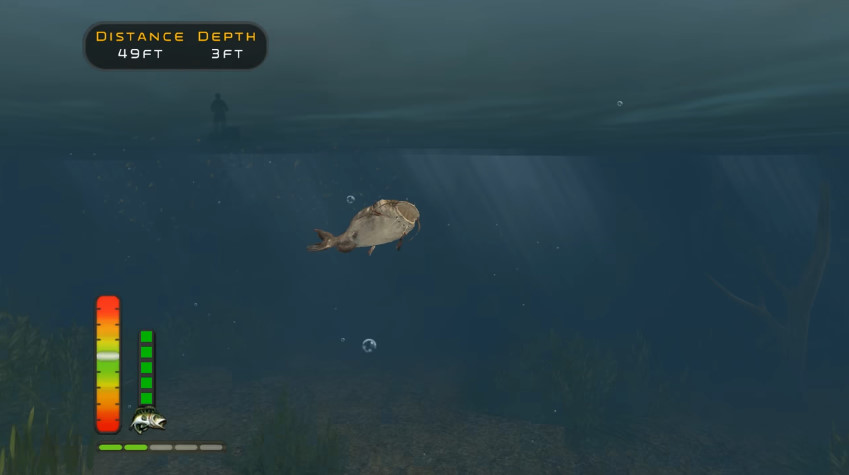 8. Fisherman's Bait 2: Big Ol' Bass (Playstation)
This was my personal favorite fishing game for the original Playstation. Fishermans Bait 2 was just so much fun to play and much better than part 1. It's fun to play in short bursts of time. Does get boring like any other arcade style fishing game. I loved the third person top of water fishing view. A small onscreen camera chasing your fishing lure was unique and fun. Was a blast to play with a friend also. Probably the biggest rival to Dreamcast's SEGA Bass Fishing, back in the day.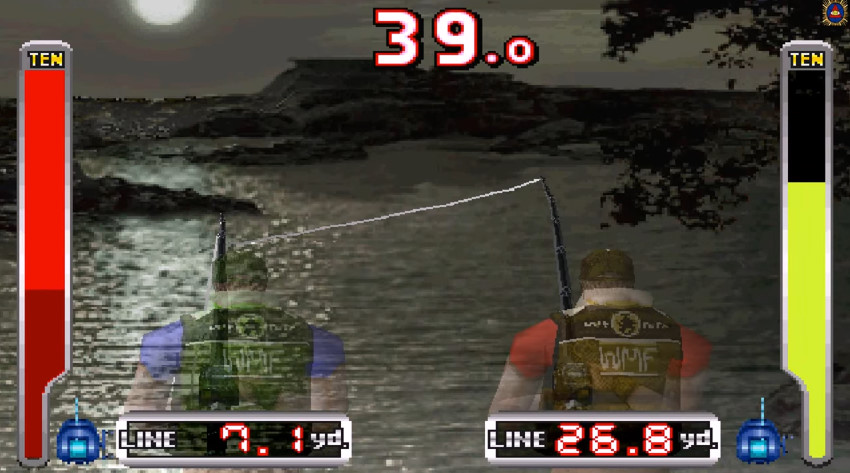 9. Ace Fishing: Wild Catch (Android, IOS)
The best Deep Sea fishing game available on Android and IOS devices. So many different locations and levels to earn. With cool fish species to catch. from the largest sword fish to the smallest rock fish, there is so much to catch. It's free to play and very fair with micro transactions. A large variety of gear, missions and levels can be found here. You can choose to pay for it or have a lot of patience and unlock most items without paying.

10. SEGA Marine Fishing (Dreamcast)
It was like the deep sea version of SEGA Bass Fishing. It featured the same crazy fishing action. This time though you are catching massive ocean fish like Tarpon, Sword Fish and Mako Sharks. Another fun one to play with the SEGA Dreamcast controller. Hook up, fight hard and bring them in. Simple, lacks depth but very exciting. Always competed with my brother back when we were kids to see who could catch the bigger fish.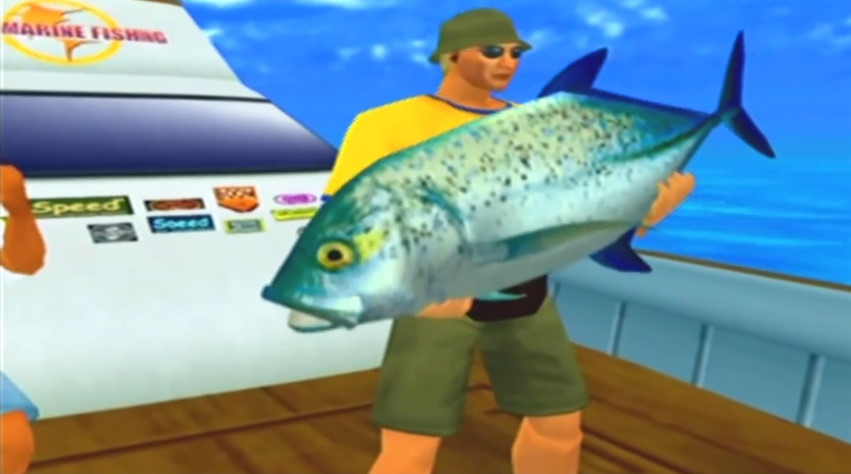 11. Fishing Master World Tour (Wii)
If I had to choose one great fun fishing game for kids it would without a doubt be Fishing Master World Tour. The Wii's controls and fun animated graphics are great for beginners and kids age 9 and under. The tournaments and quests are varied well enough to keep a person playing for a while. It's got a lot of depth and personality. If you have a wii and a young child, they will probably love this.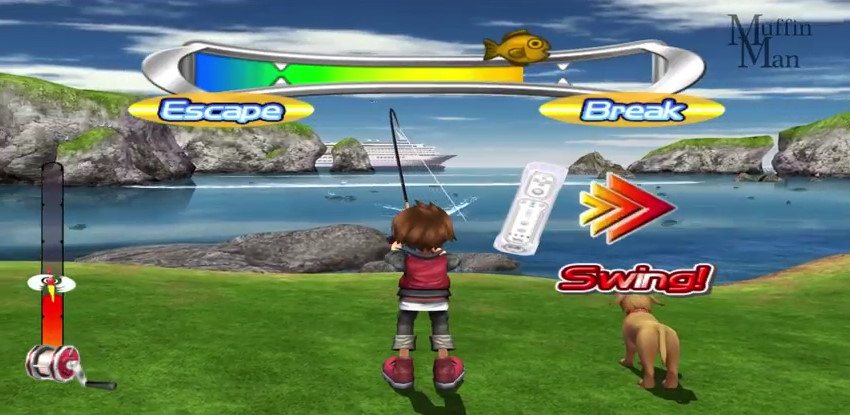 12. Reel Fishing: Wild (Dreamcast)
In my opinion the unknown and over looked Reel Fishing: Wild for the SEGA Dreamcast was the best in the series of Reel Fishing games. The photo realistic exotic locations were amazing to look at. The big fish aquarium was cool. Catching certain fish species was very challenging and annoying at times. Because they only bite on certain baits, during certain parts of the season. It's a very fun simulator game though, and graphics still hold up today. If you are looking for a fishing game with tons of options and depth. Something that will keep you playing for a long time if you are trying to beat it. This one is just for you.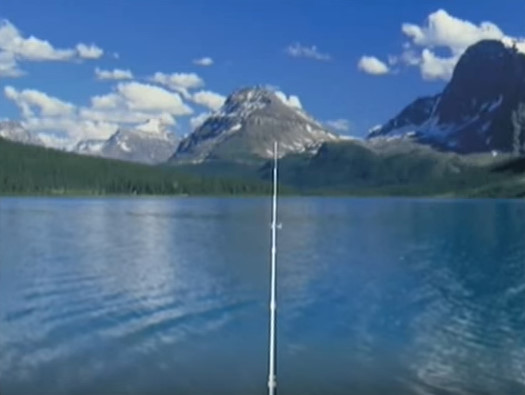 13. In-Fisherman Bass Hunter 64 (Nintendo 64)
Sure Bass Hunter 64 had ugly graphics (Well I guess good for Nintendo 64). When it came to gameplay and quality for it's time, it was a good game. Just did not age well. Catching bass was fun. Driving the boat around was great. Figuring out what the best gear to use in a certain situation while fish a tournament always kept me on my toes. It was created by Rockstar so quality was insured. Much better than Bassmasters 2000 for the Nintendo 64. It's a good game and worth a try for sure.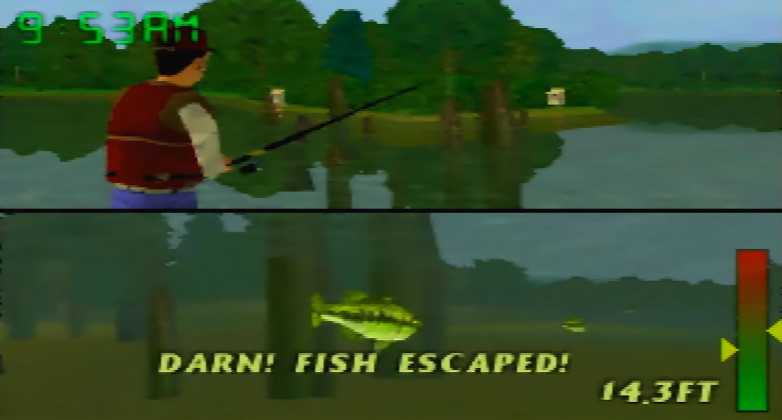 14. Bassins Black Bass With Hank Parker (Super Nintendo)
A very high quality fishing game. Given the 16 bit graphics Super Nintendo had to work with, this game took advantage of its power. Gameplay was very realistic, Gear and upgrades were fantastic. Much better than Super Black Bass. Reel life lakes were a bonus. A decent one to play if you own a classic SNES.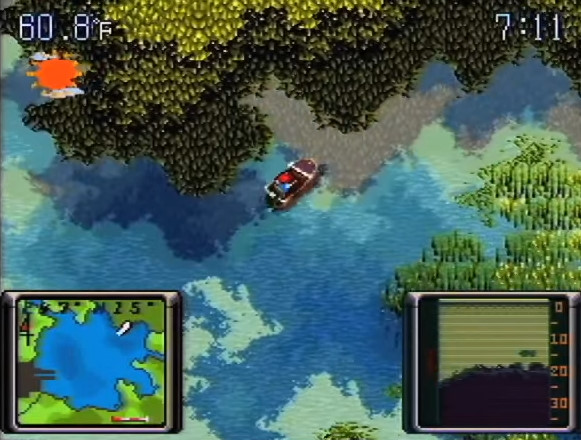 15. The Black Bass (Nintendo Entertainment System)
An old classic 8-bit fishing game that started it all. The first fishing game to take fishing serious. Could never tell if that was a top water or underwater view when casting your lure? Lol. Graphics aside the gameplay was simple but fun. challenging friends to find and catch a bigger bass than you was a blast. Still to this day the game is fun to play as long as you don't mind retro graphics.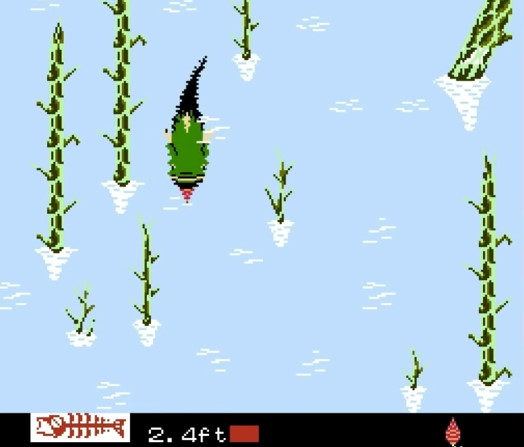 Honorable Mentions (Other Great Fishing Games)
> Bass Masters Classic Pro Edition (Super Nintendo, SEGA Genesis)
> Fishermans Challenge (Playstation 2)
> Legend Of The River King 2 (Gameboy Color)
> King Salmon: The Big Catch (SEGA Gensis)
> Championship Bass (PC)